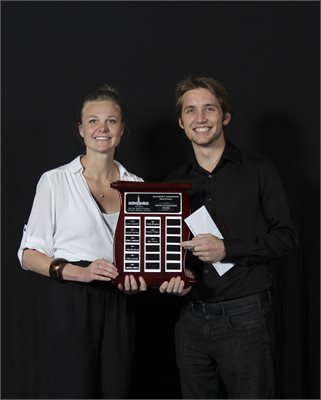 Nick Reich was presented with the 2014 Youth Leadership Award for Beaumont Composite High School, in recognition of academic success and leadership, at the school's awards ceremony on October 6.
The award is intended to recognize and celebrate the outstanding achievement in leadership of a student who has completed grade twelve.
Nick was a founding member of the band The Truth, and was also a part of the school's French Band, which played numerous concerts and events throughout the province promoting French music and culture.  In Grade 11, he played the part of the mayor in the school's production of The Music Man, and in Grade 12, he was cast as Nick in FAME.
Outside of school, Nick wrote his first full One Act play for the One Act Festival in Grade 11, and in his final year, he wrote and directed a One Act Musical, including full score, called The Light. At the Alberta High School One Act Festival, he won the best student written piece for The Light, and the play was picked up by NexxtFest for two shows, a significant achievement which recognized his talent and passion for the arts.