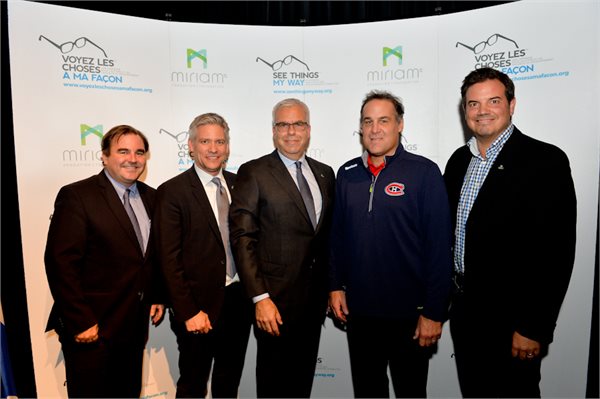 On September 22, Mike attended an important Miriam Foundation announcement in Montreal. The foundation, an organization that helps people with autism spectrum disorder and intellectual disabilities lead fulfilling lives, announced the opening of a new diagnostic centre early next year to allow more children to be diagnosed for Autism Spectrum Disorder. This will help to clear the two-year waiting list for diagnosis that families in Quebec are currently facing.
The Miriam Foundation offers education and training to professionals, paraprofessionals and family members. They also foster specialized research focusing on improving diagnosis and developing new treatments and interventions. For more information on the foundation, please visit www.miriamfoundation.ca.
Photo: Andrew Molson, Mike, Warren Greenstone (CEO of the Miriam Foundation), Scott Mellanby, and Charles Lafortune, all of whom are fathers of children with autism.